Try winter's best motorsport!
"The snowbike: a seemingly normal motocross bike modified with a front ski and a 10 inch wide track in the back, making for one of the most innovative and versatile snow machines we've ever seen."
About Us!
My name is Randy and I have been riding in Golden for 16 years. I started by dirtbiking and while I still love it Snowbiking is my sport of choice!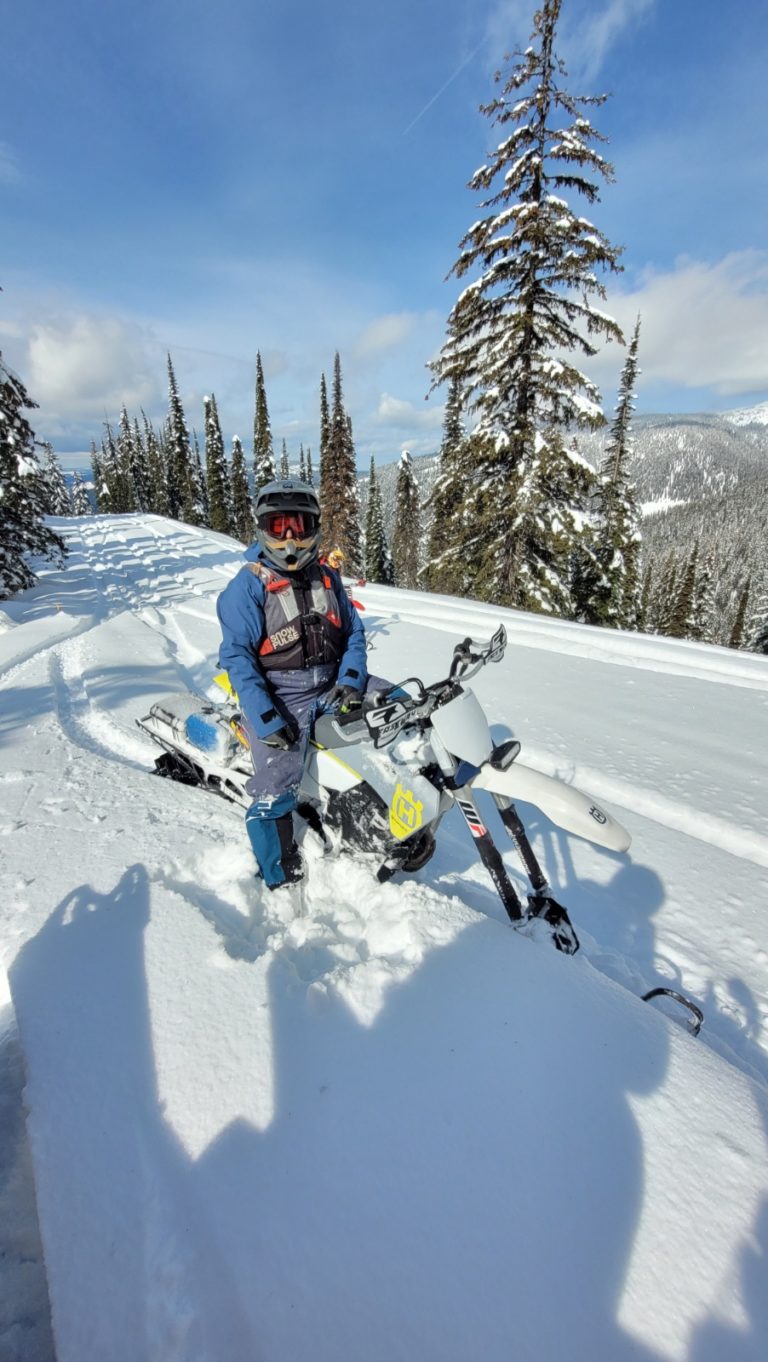 Because snowbiking in Golden can be like nothing else I like to accompany my guests on their day in the back country. That way I can steer you clear of drainage ditches and I can show you where the fresh stuff is. I have two bikes available and once we get out in the alpine I will gladly let you give my bike a try too to see what you like! 
When I'm not out enjoying the backcountry I am competing in a couple of the races in the area. 
When you book with Golden SnowMX we can ride locally or I can deliver/ ride up to Sicamous if there's a place you would like to explore. 
We are the only ones renting our snowbikes in the area so if you've been looking to try this unique sport book with us now! 
 New this year we are adding a couple of snow machines to our fleet!
For those those who are looking for a top class mountain ride with a more traditional feel we have two 2022 Ski Doo Summit Edge machines for rent. 
Ski-Doo Summit snowmobiles are built to make every ride in the deep snow more incredible than the last. Whether climbing steep chutes, carving up bowls of powder, or snaking through tree lines, the Summit responds instantly and rides effortlessly. 
Together we bring 20 years of experience to backcountry riding in Golden.
All of our machines are serviced regularly and were converted using the highest quality conversion kits. 
We see customers from many different backgrounds, including experienced motocross riders, first time riders or snowmobilers looking for a new way to enjoy Golden's epic powder!
Golden's unique climate and frequent precipitation produces light, fluffy powder. Miles of open and diverse terrain accessible near Golden are a snow lovers paradise. 
"Snowbikes bring with them a whole new breath of creativity and limitless potential"
Golden is centrally located between the Columbia Mountains and the Rocky Mountains. Less than 3 hours from Calgary and 4 hours from the Northern US border make Golden accessible no matter where you are coming from.
How do you tuck yourself in after an epic day on the hills? Golden is a snowsport mecca and there is no doubt you will find others who share your passion at one of the many pubs and bars that line the streets. Looking for accommodation? Check out our lodge for the full experience!
Golden is a hub for all things outdoors and the terrain that can be accessed from has to be seen to be believed, there are 240km of groomed trails and countless kilometers of more advanced, adrenaline pumping terrain.
Find out more.